Below is a selection of articles that have appeared about me and my turkey calls.
---
The following article appeared "Outdoor Life" in April, 2005.
Turkey Call Supreme
A Georgia maker of slate and box calls has become the Michelangelo of his craft.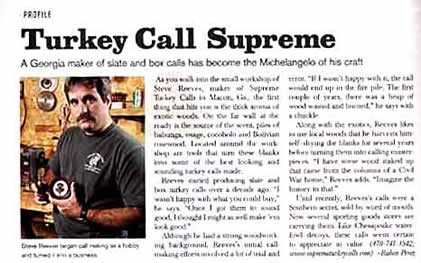 As you walk into the small workshop of Steve Reeves, maker of Supreme Turkey Calls in Macon, Georgia, the first thing that hits you is the thick aroma of exotic woods. On the far wall at the ready is the scent's source, piles of babunga, osage, cocobolo and Bolivian rosewood. Located around the workshop are tools that turn these blanks into some of the best looking and sounding turkey calls made.
Reeves started producing slate and box turkey calls over a decade ago. "I wasn't happy with what you could buy", he says. "Once I got them to sound good, I thought I might as well make 'em look good".
Although he had a strong woodworking background, Reeves initial efforts making calls involved a lot of trial and error. "If I wasn't happy with it. The call would end up in the fire pile. The first couple of years, there was a heap of wood wasted and burned" he says with a a chuckle.
Along with the exotics, Reeves likes to use local woods that he harvests himself¯drying the blanks for several years before turning them into calling masterpieces. "I have some wood staked up that came from the columns of a Civil War home" Reeves adds. "Imagine the history in that".
Until recently, Reeves calls were a Southern secret, sold by word of mouth. Now several sporting goods stores are carrying them. Like Chesapeake waterfowl decoys, these calls seem certain to appreciate in value.
---
The following "Outdoor Life" article, by Bob McNally, appeared in September, 2007.
Puddlers With a Wood Duck Call
A top flight hunter uses his own calls to fool these beautiful birds.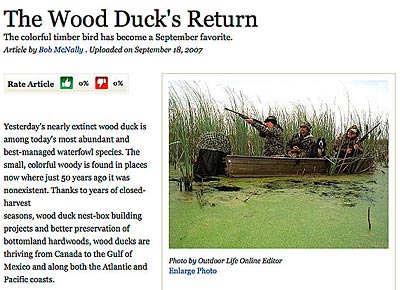 "Wood ducks are real vocal when sitting on the water. Like mallards, they have a lot of different lingo that's not hard for novice callers to master" says Steve Reeves of Macon, Georgia.
Reeves is a top wood-duck hunter. Living in wood duck central, and being a world-class custom call maker, he uses his creations to fool these beautiful ducks. "Here in Georgia, when I hunt puddle ducks, the only call I use is a wood duck call. Woodies are our local ducks, and the migrators know that. When they hear the loud weeeeeet, weeeet call, none of them second-guess it. They don't circle-they just come with their feet down. Puddlers know the wood ducks are the homeboys."
"My favorite hunt is to find the woodies' flight path and to sit near the water and make ripples on the surface as I give a loud greeter call on my wood duck call. In fact, the wood duck calls are so effective I don't let anyone in the blind blow a mallard call. The puddlers will come when they hear the squeal".
Click here for a higher resolution copy of the article.
---
The following article, by Ruben Perez, appeared in "Outdoor Life" in March, 2008.
Tackling Early-Season Toms
Often flocked up and never alone, early-season toms can be among the hardest to tag. That is, unless you know how to hunt them.

If you don't want to be humbled by a bird sporting a brain the size of a nut, don't hunt pressured turkeys-especially in the Low Country of South Carolina, and particularly during the early part of the season (mid-March), when turkeys are often still roaming in large, mixed flocks. Fortunately, if you travel down there to join one of the locals for a hunt and are open to learning their ways, you'll find yourself better prepared to deal with any early-season tom.
It was in such a situation that I found myself while hunting near Ehrhardt, South Carolina, at Bang's Paradise Valley Hunt Club. The property consists of 8,500 acres of prime turkey country, featuring food plots and chufa fields among the mix of pine stands and hardwood creek bottoms. I was on a morning hunt with guide John Coit, fellow hunter Raymond Archer and noted call maker Steve Reeves of Macon, Georgia. We had slipped in on a gang of roosted toms in the fading darkness, and upon daybreak, the five longbeards pitched down and approached our calls. But an interceding hen began to march in from our left and interrupted our plans.
Hunting at this time of year in the Low Country can be tough, since many of the turkeys are still flocked together, making for a lot of eyes ready to catch any sign of danger. Because gobblers are usually with other toms and hens, there is also less likelihood they will march off on their own to the mere sounds of a call. But Reeves put on an amazing show.
Ignoring the old adage about calling conservatively, Reeves laid it on. "You need to sound natural, and that's making turkey sounds like turkeys do all day, every day" says Reeves. "The notion that you just make three yelps and stop, wait ten minutes and then three times again doesn't cut it It's not natural."