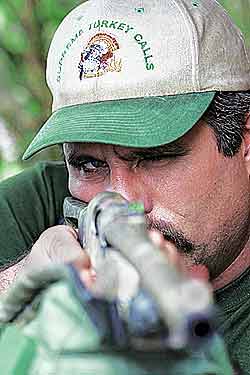 I have been making turkey calls since 1994 and I continually strive to build the very best call on the planet. I know that any person who buys one of my calls feels that they have just found the best sounding and finest looking turkey call they have ever heard or seen. I consider every one of my calls a work of art!
As for their effectiveness, all models have been turkey tested from Florida to Montana and are deadly in any part of the country. They have never failed to be as effective as the hunter who is carrying them.
These calls are for the discerning collector as well as the hardcore hunter. Any call can be custom-crafted from a variety of specialty hardwoods I have on hand in limited quantities. Please e-mail me for a list of current woods I have available.
OK, let's also be clear about one other thing…this isn't Wal-Mart and I don't have an inventory of a thousand turkey calls on some shelf waiting for your order. Instead, I hand craft every one and individually sign, date and number them. I am a factory of one-man, but this way, I can have supreme confidence in my Supreme Turkey Calls! Please be aware if you order a call today, it will be between twelve and eighteen months before I can craft your call.